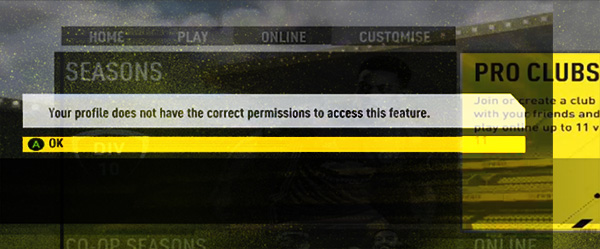 FIFA profile does not have correct permissions fix
If you see the message your profile does not have the correct permissions to access this feature. Do not panic! Our FIFA profile permissions fix will help lots of you raging at EA thinking it is their fault. If you have an Xbox Live account but still can't access FIFA Pro Clubs online we know why. If you have an Xbox Live account but can't access any FIFA online mode here is the fix. The fix below and video are from Xbox One but we are checking PS4 to see if similar settings give same issue.
We were looking forward to playing Pro Clubs in FIFA 17 as it has finally been given some attention by EA. However when we tried to access it and the error appeared on screen as above. So we had a think about what this could be and then found the solution. Read below or follow the video at the bottom of the page which shows you how too.
Quite a simple process. Go to the Xbox settings. Then Account, Privacy and Online safety. Type in your password or passkey if you have one set. Then click on Xbox Live Privacy. You will see 4 options. Child defaults will block online modes on FIFA, Teen allows most but Adult we found lets everything work best. Unless you want to be more secure and prefer custom. We then know which options you need setting for FIFA online and Pro Clubs to work. These are:
1. Others can communicate with voice and text – Set to Everybody.
2. You can join multiplayer games.
3. You can use video for communication
4. You can see and share content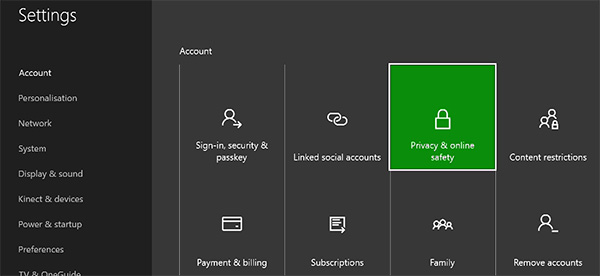 FIFA profile permissions fix
And here is the video showing how to change all the settings above to fix the FIFA 17 profile permission issue. Same for previous FIFAs too. Don't forget leave a like and follow us on twitter @fifaaddiction