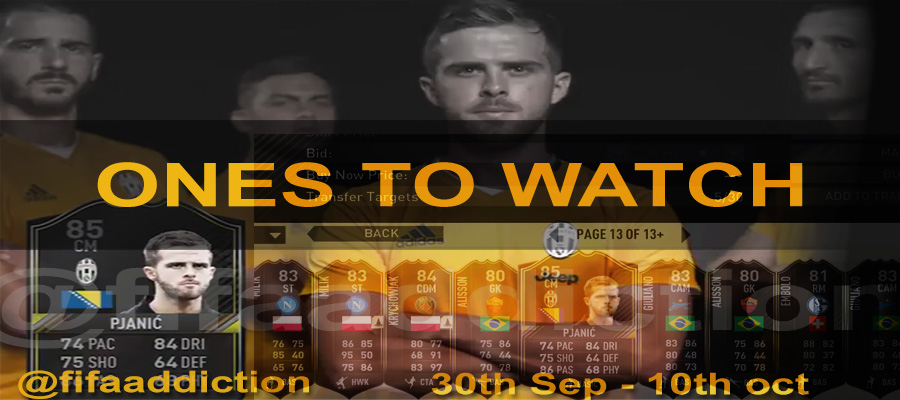 FIFA Ones to watch guide
In FIFA 17 a new feature has been added to Ultimate Team called Ones to Watch. EA chose 23 young players to give special cards to in FUT 17. They are more exciting than other cards because they are dynamic. Upgraded every time the player receives an in form. Here is our FIFA Ones to watch guide.
When are Ones to Watch in packs?
The Ones to watch FUT cards are only in packs between September 30th and October 10th. However you can buy them if available on the transfer market. They can be very good investments and rocket in price with a couple of in forms. Already we have seen some upgraded due to being in Team of the Week (TOTW). We cover trading in One to Watch players below.
Ones to Watch investing and trading FUT
Lots of people have made a profit on Ones to Watch. It helped that Higuain, Pogba and Giuliano gained ealry TOTW cards to boost their One To Watch card. We think a lot of them will get further in forms over the weeks and have picked three we think are most likely to get the most. Having seen the Russian league and how Zenit play around Giuilano we think he will definitely gain more. He stands out in that league and we think the chances of him moving to a bigger club are high. We were suprised that Rashford wasn't named but that leaves Mane at Liverpool as our next choice. The Liverpool team is playing well and he is capable of beating lots of players and scoring. He just needs Coutinho to have a few quieter games to pick up some in forms. Then we have gone for Dembele at Dortmund. He is raw talent but the best we have seen for a few years. Once he settles in the league he will start to be the star of their team even at a young age. We could have chosen others but they are in stronger teams where it is harder to stand out amongst so many top players.
One to Watch players FIFA Ultimate Team
Below are the 23 One to Watch Players in FUT 17. Thanks to WEFUT for their amazing site you can look at the current values and stats of each player. If you click on a player to load the data just press back on your browser to go to the full squad of 23 players.