FIFA 18 skills tutorials
The best FIFA 18 skills tutorials which are also printable. Having searched several times for FIFA skills guides we always found the same problem. On youtube, websites, EA's website and even in the game itself they are always explained when in the arena. All good if you want to become an arena skill master but during the game nearly all of us play using tele camera (left to right and right to left). This means you have to then go into practice match and try convert in your head the way to move the stick. Yes this isn't overly difficult but for every skill and especially when wanting to do a complicated skill it actually can make your brain hurt. So we have created some left to right and right to left help guides to help us learn easier!
How to do new FIFA 18 skills
Not many new skills in FIFA 18. The Okocha flick has been extended to running as you will see in the 5 star skills guide below. Two new FIFA skills the Cruyf Turn and The bridge haven't been added in the game instructions. So this is how to do them. Both can be done with any player on the pitch including the keeper. We have seen youtube videos saying they need 3 star and even 4 star players to do the bridge!
How to do cruyff turn FIFA 18
Very simple do a fake shot or pass and turn back in the opposite direction. EA have changed the animation for this so your player now does a cruyff turn. Higher skill levels make this look better and more effective but done it with keeper too.
How to do bridge skill in FIFA 18
Another skill anyone on the pitch can do although keepers will struggle to get around the player. Slow down not sprinting towards opponent player head straight for them. Then as get close hold sprint and flick right stick towards the player at same time. Often if another of your players is close it will turn into a pass.
Printable 2 star skills list FIFA 18
Some of the most effective skills in any FIFA. Make sure to know all these as must have basic skills.
http://fifaaddiction.com/fifa-skills-tutorial/2-star-fifa-skills-guide
Printable 3 star skills list FIFA 18
Skills are more effective in FIFA 18 and the roulette will always be one of the best skills to use. Especially in the penalty area going the side away from the defender.
http://fifaaddiction.com/fifa-skills-tutorial/3-star-fifa-skills-guide
Printable 4 star skills list FIFA 18
Once you have the basics covered it is time to learn the skills that will open space against your opponents. Especially more against people online rather than against AI. Stop and turn worked well against both however. Heel chop in the box can give that space for shot or draw a foul.
http://fifaaddiction.com/fifa-skills-tutorial/4-star-fifa-skills-guide
Printable 5 star skills list FIFA 18
Turn and spin and running scoop turn become very dangerous in FIFA 18. Throw in a few Okocha flicks and elasticos and you will create chaos online.
http://fifaaddiction.com/fifa-skills-tutorial/5-star-fifa-skills-guide
Printable FIFA18 skills guide
Check out all the FIFA skills pages and get practicing. As a helpful tip just pick a couple of easier ones and master them on an easy setting. When you know how to do FIFA skills without thinking you can master some more. How to do all the skills in FIFA18 is important if you want to have that advantage online or against friends.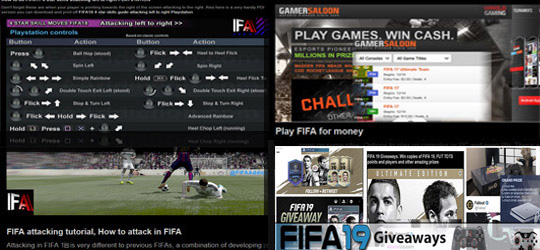 Play FIFA for money against others and in competitions. FIFA for money page.
Improve your FIFA play attacking and defending. FIFA tutorials page.
To win consoles controllers FIFA 18 and more check our FIFA giveaways page.