Developing your pro in FIFA 13
In FIFA 13 you now have an offline pro and an online pro so have to play online games to develop online. This is to prevent the hacked pros we saw in FIFA 12.
Recently added a blog regarding developing your pro in the early stages a little quicker so here is that content below. The other way is to simply play in a club. Check out the resources page always people looking for pros!
When you setup a club or join one there is an option in the club screen to "Drop-In Match". This is the same as in 12 where your pro plays in 11 v 11 games online. Everyone jumps in to get the positions or as any. As shown here in FIFA 13.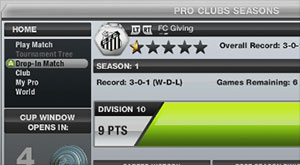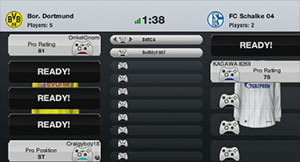 So rather than playing against lots of people with their pros who will run around like crazy not passing back out of the game. Go back into "Drop in match" and try to find a game where only 1 person is there. Usually they will play as it means they can pass it to their pro all the time. As selecting any you can control all the players. So look for a screen like the one below and select ready.

When in the loading screen send a message to the opponent asking if want to boost anything on their pro and you will give their pro the ball. They will always say yes if you have been polite! Then take it in turns with your pro doing what you need. Shooting, passing, dribbling, tackling or if you are a keeper. Can also dribble past to unlock the skills using ball rolls. Look at the skills page for the 2 star skills on the site that you can do straight away to beat players. You can also arrange for a friend to go to the "Drop-In match" at the same time and you can do it even easier. Have to both press ready before anyone else tries to join.
And there we go. Here is a couple of screenies showing us asking and the response. Like and follow on twitter.