FIFA Pro Clubs new features
EA have made a few small changes to FIFA18 pro clubs so we have added their website so you can see. Then below are all the changes from last year which gave Pro Clubs a bit more attention.
FIFA 18 pro clubs features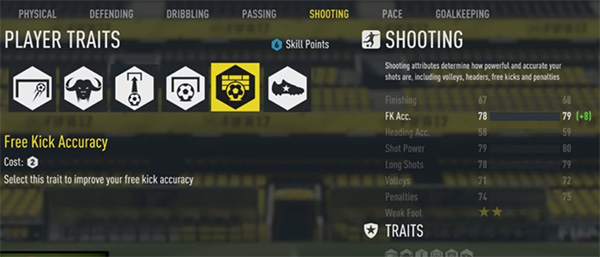 We show you the previous FIFA 17 Pro Clubs new features ahich are in FIFA 18. Including a new way to develop your FIFA 18 pro player. How to customise your Pro Club in FIFA 18. You can now create your kit and emblem or choose existing team kits. We also have Pro Clubs gameplay videos from the EA capture event too. Previously in Pro Clubs you had to do grow your player by doing certain objectives such as pass the ball long 10 times, 20 times and 30 times to become a better long passer.
In FIFA18 Pro Clubs you earn skill points to spend on growing your player in different areas. You can go into 6 different player attributes Pace, Shooting, Passing, Dribbling, Defending or Physical and then there are several traits within each. So here we can see the areas you can boost and below the options within. We look at improving free kick taking for 2 points which boosts by 8 in the stats. The more you play and do the more points you will have to develop your Pro.
FIFA 18 Pro Clubs gameplay and how it works
Here we have FIFA17 Pro Clubs gameplay same as FIFA18 @SpencerOwen, @castro1021, @chuboi, @Manny_Official against the Sidemen inc KSI. We see how to create a FIFA17 Pro Club, editing emblems and kits and pro players.
FIFA 18 Pro Clubs player editor
One of the best FIFA youtubers @MattHDGamer was also at the EA capture event. In this video he shows us the player editing options and how you develop your player. There are lots of fun new celebrations from FIFA 17 Pro Clubs too. We are glad EA decided to add FIFA Pro Clubs new features. When it plays well it can be the best game mode there is.