Which FIFA 18 to buy
Lots of choices when buying the latest FIFA, so which FIFA 18 to buy? We have found the best deals below and how to get free delivery on Amazon if a student. Maybe you will be tempted by a FIFA console bundle including PS4 Pro! We have found FIFA 18 regular PS4 bundle for £229.99 but that might sell out near launch. Links below. Hopefully everything covered but if not follow us on twitter or facebook and ask us.
Q Which version of FIFA 18 should I buy?
A If you are buying it to play casually or not too bothered about Ultimate Team we recommend the standard edition. These are the cheapest. Also if you do play Ultimate Team but rather not buy packs or desperate for best players this is for you. Remember having 20 or 40 packs doesn't even mean you will get decent players and there are SBC challenges and FUT Squad Battles where you will earn players and packs. FUT Draft will also let you use all the top players and icons without having to buy the players. You will also get free packs just for returning to play FIFA if you played FIFA 17 and previous versions. Prices will vary but the standard edition should be around £49.99. Even if online you can find it for £44.99 you might as well buy it in your local supermarket. You can trust them to have stock and you can collect it midnight of the night before if you are prepared to queue. As you can see below the Xbox and Playstation stores are £10 more. Unless you sign up to EA Access for 10% discount. PC prices are lower down in the blog.
How to get FIFA 18 discount on xbox and playstation store
However using the stores on your console there are a couple of tricks to get things cheaper.
Buy FIFA 18 within FIFA 17 on your console and you get 10% off. If you also then have EA Access on Xbox you will get a further %10 off. So 20% off FIFA 18!
Or buy Xbox or Playstation gift cards for cheaper than their value. So you buy a £50 gift card for £46.99 or whatever the current offer is. When you buy a gift card you receive a code to type in on your console under the redeem code section. We recommend using CDKeys.com or G2A.com. CDKeys also have a 5% off discount on top of any purchase just by adding an email address to their facebook – CDKeys facebook offer. Other ways are below as offers change and become out of stock all the time.
FIFA 18 Ronaldo and icon edition best price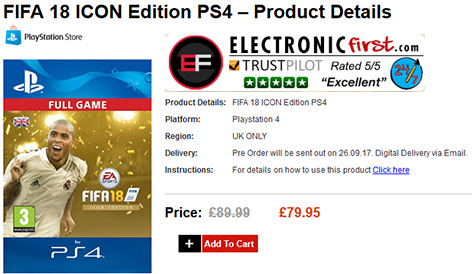 If you play Ultimate Team a lot and really want packs as cheap as possible it is better to buy the Ronaldo or Icon edition. 40 Jumbo Premium packs with the icon edition is roughly £90 worth of packs. Plus 3 match FUT Team of the Week loan player (one three match loan player for 20 weeks) sounds interesting. And hopefully you will get something good in packs to start you on your way. The price of the Ronaldo edition is £79.99 from Xbox/PS store. FIFA 18 icon edition is £89.99. We have found the icon edition £10 cheaper from Electronic First as shown to the right. But on PS4 only. The Ronaldo edition is £10 cheaper in lots of shops. We have linked Tesco Direct FIFA 18 Ronaldo edition (not in store) and Currys FIFA 18 Ronaldo edition here otherwise google the latest prices and shops.
We have looked at the best prices around from trusted sources. This is important as you don't want to be let down. Stock will be limited when the offers are so good.
Buy PS4 Ronaldo bundle on PS4
Currently Amazon have stock of the PS4 FIFA 18 Ronaldo bundle at £229.99 and PS4 Pro standard bundle at £379.99. We would anticipate the stock to run low as people buy a PS4 for the 1st time with FIFA. Linked below.
If you use Amazon prime you will get free delivery. Worth signing up for it for a months free trial then cancelling. We have done that a few times and the offer keeps returning! It also gives you Twitch prime to make watching your favourite FIFA streamers such as Castro way better. And you get access to movies, tv shows, music etc etc.
ALSO if you are a university student use the link below as this gives you the trial for 6 months with nothing to pay and you can cancel at any time. Just make sure to cancel before 6 months if don't want it after.
Unfortunately you will need to switch off ad blocker for this page to see the deals. Amazon don't let us create our own images to link.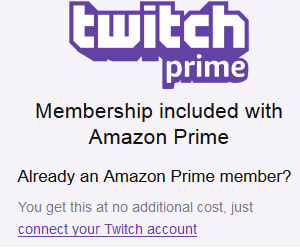 Buy Sony PlayStation 4 – FIFA18 Ronaldo Edition (3 Days Early Access Plus FUT18 Team Icons and Rare Player Pack) 500 GB £229.99
Buy Sony PlayStation 4 PRO – FIFA 18 1TB Standard Edition (plus 3 icon loans and a rare players pack) £379.99
Best FIFA 18 price on PC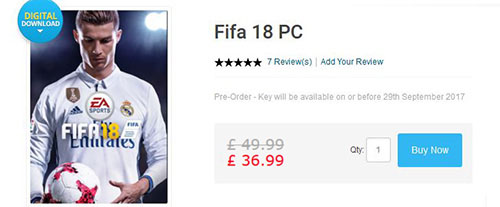 Even though gaming PCs can be way more powerful than consoles the PC price for FIFA 18 is much lower. Origin has the standard edition at £54.99 but we found it online from CDKeys a place we trust for £36.99. https://www.cdkeys.com/pc/games/fifa-18-pc-origin-cd-key The Ronaldo edition is £69.99 on Origin and icon edition £79.99. However we couldn't find these anywhere else!? https://www.origin.com/gbr/en-us/store/fifa/fifa-18/icon-edition
Is FIFA 18 worth buying?
FIFA 18 is looking like an excellent game. The beta was good and the FIFA 18 demo had very promising tweaks to gameplay. The graphics are stunning and there are lots of different modes for everyone offline and online. You can casually play it or play it more seriously and make a living from playing FIFA. In a fun way on youtube or as a professional player. If you are good at FIFA we recommend playing against people for money to become competitive. We have a page which will help you and connects to a trusted source. Play FIFA for money.
As above if you need any more FIFA 18 questions answered follow us on twitter and ask us.
Check out our General FIFA 18 FAQ and FIFA Ultimate team questions
We also have two other pages of questions and answers blogs. Details of cheapest FIFA 18 deals and what the best option is for you. Plus other general FIFA 18 questions.