Top 50 FIFA17 player ratings
FIFA17 is almost here and we now know the top 50 FIFA17 player ratings in ultimate team and head to head. From playing the FIFA17 beta we have used all of these players and some really do stand out as beasts. Keep an eye on our site and twitter @fifaaddiction where we will add player reviews letting you know who we think are worth the coins in FIFA Ultimate Team. Also as usual our best FIFA17 bargain players. It isn't always the highest rated players who are best value for money. In the beta our favourite player wasn't even in the top 50. Although you won't be disappointed with how good the top players are if you can afford them.
FIFA17 player ratings top 10
Here are the top 10 players in FIFA17. Or at least the top 10 highest rated players in FIFA17. We will decide who really are the best as we play more but from our extensive testing of the beta some players were a lot better than others. As usual Ronaldo Messi and Neymar are the best players but we personally think Suarez was better than Neymar and should be swapped round. They have the same ratings anyway. Good to see 2 keepers in the top 10 and once again the Spanish and German leagues dominate. No doubt Bayern Munich, Real Madrid and Barcelona will be used the most competitively in head to head but Man Utd will be right behind them and probably just as popular with regular gamers.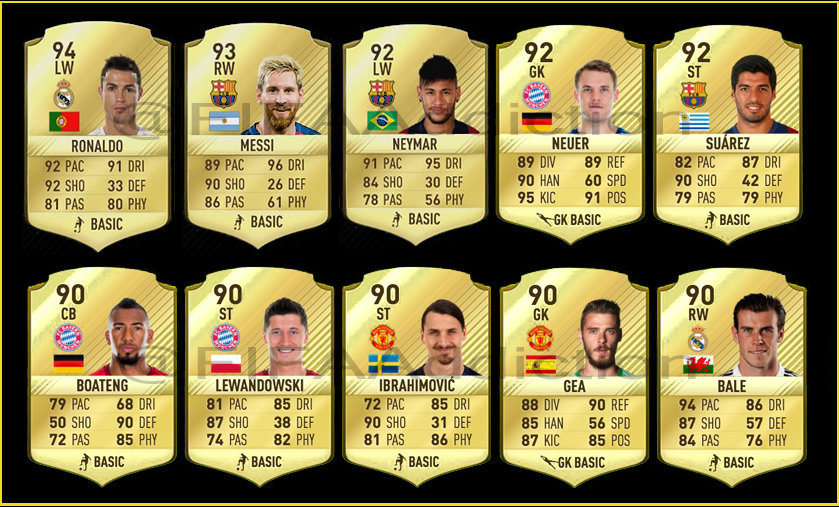 Top 50 to 10 players FIFA17
Looking at the next 40 we see the usual names Aguero, Reus, Hazard, Iniesta etc. Big boosts for Jan Oblak keeper at Atletico Madrid, Bonucci CB at Juventus and Griezmann, Pepe and Payet. Lots of amazing keepers with high ratings this year. We see 8 keepers rated 87 or higher which will mean we are all going to need to practice finishing. As a result FIFA17 seems like it will be one of the best.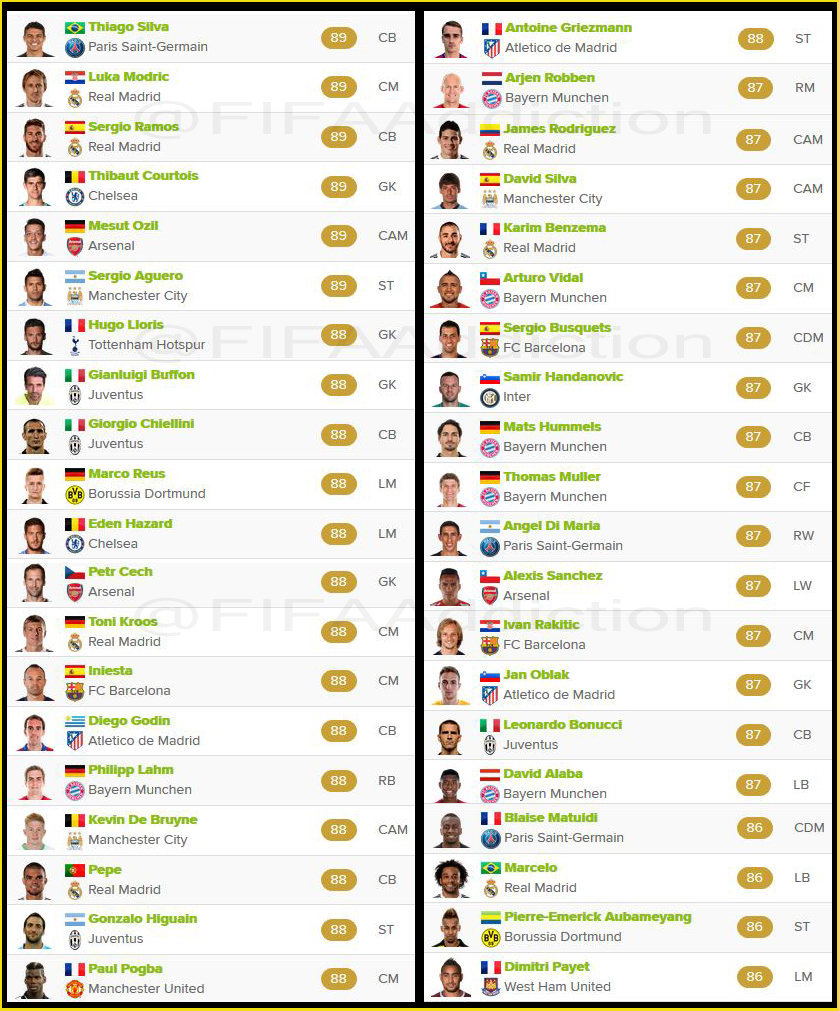 50 to 10 images from www.FUTWIZ.com