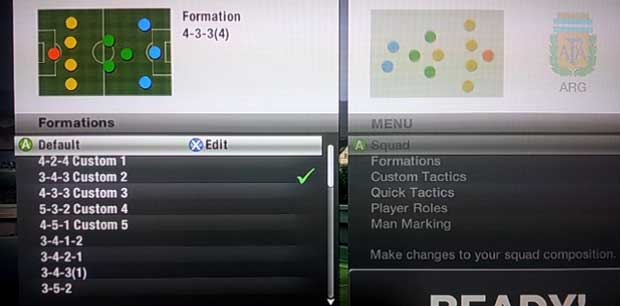 Custom Formation
Please note in FIFA 13 Ultimate team forgets saved formations. Still trying to find out if this is intentional from EA or an issue which needs resolving. They save ok in h2h.
A lot of people ask the best FIFA players – what formation do you use? The answer will be different from people because of a few factors. The team they are using and the style of play and tactics they use. To take your game to the next level a custom formation is essential. This is because when you use them you can tell the players if to have high attacking and defending work rates. Which way to move in attack and defence and where they play on the field generally. As Ultimate Team and Head to Head games are so different it is best to use varied custom formations. The main example being stamina which drains quickly in head to head so setting players to high attack and defence work rate can be dangerous. However if you have lots of in form players in UT this can really help you win.
We have created videos of setting up custom formations to the right and how effective they are in games. One major difference to custom tactics is that you can't change formations during play. You have to stop the game and use one of your pauses. So it is good to create one that you like with your different tactics for Ultimate team and one that you like for Head to head.